This was inevitable.
Eventually, the bottom was going to fall out of Al Golden's house of cards. When a 23-point Miami Hurricanes lead evaporated against Nebraska, we knew nothing had changed. It reminded me of White Men Can't Jump, when Rosie Perez's character says, "sometimes when you win, you really lose, and sometimes when you lose, you really win, and sometimes when you win or lose, you actually tie, and sometimes when you tie, you actually win or lose."
Miami beat Nebraska, but it didn't feel like it.
And then there was Cincinnati. Make no mistake, despite the "trap game" cliché being thrown around simply because it was a Thursday night road game, if this game was a set up for anyone, it was a set up for Miami to win. Unlike Miami, Cincinnati was not coming off a bye week. They lost a heartbreaker last Thursday to Memphis, while the Canes rested, with a full five extra days to prepare. The Bearcats also lost their starting QB. And yet they dominated the Canes, winning by 11 in a game they led most of the way.
FARCE
Perhaps we should have known what was coming when ESPN cut to Al Golden's pregame talk and he was paraphrasing the "Remember Your Training" speech from Starship Troopers.
Art imitated life. That scene ended in disaster as well.
While we're discussing ESPN, can we please remove the portion of the broadcast where commentators invariably spend several minutes defending Al Golden with what sounds like talking points distributed by the administration? After spending several minutes defending Golden in the first half, Joe Tessitore, Jesse Palmer, and David Pollack were somehow unable to connect the fan angst with the fact that the team was busy getting face-planted by THIS Cincinnati team: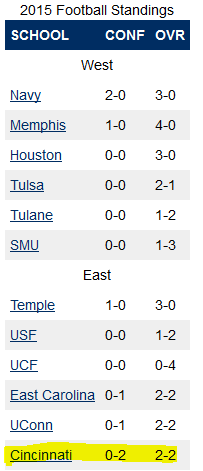 This isn't rocket science. Even Solomon Grundy can summarize this issue. "Team suck for five years. Fans angry." And done.
The 11-point defeat to Cincinnati will likely be forgotten by the end of the year. Certain to be one of many losses this season. But it might be the most Al Golden game ever.
It was a game where Golden couldn't hide. He took on the role of the proverbial baseball player with the yips. The ball kept finding him. And he kept screwing up.
There were two things that really stood out in this game: (1) Dallas Crawford's struggles at safety, and (2) the Canes poor third-down offense. But those two things are directly related to a decision Golden made two years ago.
In 2013, with Duke Johnson missing significant time with injury, Crawford stepped up. He was never going to be an elite running back, but he was good, particularly at finding the end zone (he had a team leading 12 TDs that year) and in short yardage. The shining moment came against North Carolina, where Crawford saved the Canes' perfect season with a spectacular performance.
So, of course, that offseason he was moved to safety. Why? Because if this program is about one thing under Al Golden, it's about doing whatever is necessary to prop up the defense — at all costs. Crawford is not better than Joseph Yearby or Mark Walton. He would be the third-stringer. But he is better than those backs in short yardage.
And so the Canes found themselves struggling to run the ball in the red zone, getting stuffed three times on third-down runs, while their best short-yardage back was busy getting picked on by Cincinnati's offense while playing out of position. You'll just never be consistently good if you cannibalize the offense to save the defense. And that is one of the main reasons the Canes fail. He ruined a player's career and actually somehow managed to make the offense and defense worse simultaneously. But hell, if D'Onofrio needs some depth, why not?
Profiles in Lack of Courage
This game not only became a referendum on Golden's inept long-term planning, but also on his complete inability to manage a game.
The first decision point came late in the first half, with Miami clinging to a 20-17 lead. On 4th and 6 from the Cincinnati 34-yard line, Golden had the option of going for it. This is more of a coin-flip decision, but at this juncture, both teams had ripped off points and yards. Even if the Canes had made the kick (they didn't), this did feel like a situation where they needed a touchdown. It's not the worst decision in the world, but it ended up being a game-changing one. Cincinnati took advantage of the short field and drove for a touchdown, got a stop and hit another field goal to take a seven-point lead into the half. The Canes would miss another kick in the second half from similar distance, but given that this was on 4th and 17, kicking made sense there.
The second decision point came when Miami had a 4th and 6 on the Cincinnati 41, still trailing by a touchdown. They had just spent almost seven minutes driving 44 yards and needed to get rewarded on this drive. Just out of field goal range, the conservative Golden went for the punt.
Of course it was a touchback and the Canes netted 21 yards. 12 plays, 44 yards, 6:58, and there was no payoff, not in points or field position. Meanwhile, that drive constituted a full 23 percent of the time that the Canes had in the second half to reverse the deficit. You can't waste that much time when trailing and have nothing to show for it.
The third decision point came on the Canes next to last offensive drive. Miami settled for a field goal on 4th and 5 from the Cincinnati 8, which cut the lead to four.
Golden explained his thought process:
Al Golden on why he didn't kick the field goal: pic.twitter.com/ikky6NoqZq

— Matt Porter (@mattyports) October 2, 2015
Okay, fair enough.
On 4th and 5 from the 8, given the way the Canes defense had been dominating in the second half, kicking the field goal does make sense. The problem? The Canes didn't settle for a field goal after failing to convert a third down. They PLAYED for a field goal. In a seven-point game.
Golden saying he agonized about it the whole drive is one of the silliest things you'll ever hear a coach say. The goal of the drive, in a seven-point game in the fourth quarter, is to get a touchdown. If you end up with a fourth down in field-goal range, you then choose whether or not to kick based on the yardage to gain versus the length of field goal. It's simple math. There is nothing to pre-plan, and ideally you never get to that decision, let alone agonize about it.
But that thinking actually explains what happened. After agonizing about it inexplicably, Golden decided to secure three points, on third down. That's why Miami ran on 3rd and 6 from the 9, got a yard, and then kicked the field goal. There's nothing wrong kicking a field goal on 4th and 5 from the 8, but everything wrong with spending an entire drive in a game you are trailing by seven thinking about kicking a field goal, and then playing for said field goal.
The final nail in the Golden coffin was the last drive. Miami trailed by 11 and needed a touchdown (and a two-point conversion) and a field goal. So, of course, the man who spent the entire game launching 50-plus yard field goals and punting on 4th and medium insanely tries to convert a 4th and goal from the 5 when the field goal would have cut it to a one-possession game. He never really explained why. When asked about it postgame, he simply ignored the question, instead discussing the previous drive of "agony."
And that is unfortunate, because we really do need an explanation. My pet theory is that he thought the Canes were down 12, not 11. It would explain why, when asked about it, he assumed he was being asked about the previous drive. In a 12-point game, there is no TD-FG decision, so the question must have been about a previous drive. Of course, we'll never know and he'll never admit it, but I've found that when in doubt, assume the most incompetent line of reasoning was used.
On to the ACC
Golden was forced to try to put a positive spin on this after the game:

And that's that then. In one sentence, he explained exactly why he is so unbelievably incompetent while also accidentally revealing how much he has ruined this program.
First, we all know this Miami team was never going to compete for the playoffs this year. But the idea that a Miami coach would ever say, after a loss, that the team has "all their goals" intact is something I never thought was possible. It's one thing for us to acknowledge how limited his team is, but for him to not even entertain the possibility of an undefeated season is just absurd. This man has slowly, inexorably destroyed everything unique and wonderful about this program.
And one of those things was the irrational, often insane belief that because you're Miami, you can do anything. We can go back 10 years, to equally bad Miami teams, and see preseason quotes about going undefeated, not because it was going to happen, but because this is Miami and that is the culture. Not because it is smart or reasoned, but because it is hopelessly optimistic. And it was on that long-odds optimism that the program first rose to national prominence. The actual standard as the best in the country slipped long before Golden arrived, but his crime was murdering the desire to be the best.
When you hear Blake James talk about how it would be nice to win the ACC Coastal, and Golden, after a debilitating loss, discuss the goals being intact, it shows just how much they've lowered the standards internally. So much so that the program isn't recognizable.
This is also why the banners fly. It is painfully obvious that standards have slipped so much within the program, that the only recourse is to cause a public stink. Absent internal standards and expectations, external pressure must be applied. The problem is not just that the team's performance, but the seeming lack of concern with the team's performance.
But at least he has a solution: leadership.
Slight issue with that solution — the problem with the program is not leadership and unity or whatever other intangible he can conjure out of thin air.
It is him.
It is Trent Harris being asked to cover a wideout in space. It is his best short-yardage back playing safety. It's his slow pace of play not pressing the Canes' athletic advantage. It is his offensive coordinator's inability to call plays after his script runs out. It's his team's lack of discipline resulting in repeated, backbreaking penalties. It's his total inability to manage a game.
To look at all that ails this program (not for one game, but for five years) and to offer up intangible solutions is not only ridiculous but insulting. The idea that if he fixes the intangibles, then the tangibles will fall into place is just insane.
You want unity and a positive locker room? Try winning games. What's he going to say next? That his team needs to "want it more?"
His response to 6-7 was to change nothing and focus on intangibles. Now, in the face of that "strategy" (if sticking your head up your ass can be considered a strategy) failing completely, his solution is more of the same?
There are eight games left, all conference games. Technically, the Canes can win the ACC, so Golden is not inaccurate there. He's had five years to fix systemic problems and has not only failed to do so, but hilariously refused to even acknowledge their existence. The idea of him turning it around in a meaningful manner in eight games now, while still failing to address tangible problems, is farfetched. He'll have his shot. I'll hope against all reason he'll somehow do it and in all likelihood he will remove any doubts about his long-term future by losing several games over the next month.
That should provide us with ample time to discuss the other issue…that the man who vociferously and insanely spent the last year defending Golden as the right man to lead Miami forward in the face of a mountain of evidence to the contrary will likely be tasked with finding his successor. Al Golden is not the only employee whose job needs to be up for review.
Follow Vishnu on Twitter @VRP2003