Add another one to the loss column for the 2015 Miami Hurricanes. Another loss to Florida State in what will surely be Al Golden's last bite at that particular apple. Another failure. Another attempt to explain away the failure, which should fall on deaf ears.
Barring a huge collapse by FSU, Al Golden just ran his record against teams who finish the year ranked to 0-13. Even by luck, he should have fluked into a win.
In a way, the details here don't matter. What's one more loss in a sea of losses? Sure, this might have been played up as Al Golden's last chance to save his job. But that was never a reality. The idea that Golden could save (or lose) his job in one game when he is in his fifth year coaching at Miami is kind of absurd. It was an ACC loss on the road that, with Clemson lurking in two weeks, will almost certainly force the Canes to win all six games against ACC Coastal opponents for a shot at winning the Coastal, which is hardly a lofty goal to begin with. The grains of sand are running out in Al Golden's hourglass.
Sure, there will be those that compare Golden to Butch Davis, since Davis infamously lost five in a row to FSU before beating them. But again, this is not a one-game season, schedule or tenure. After five years at Miami, Davis' win percentage was 67.8 percent and he had won 3 bowl games. He had also beat teams that finished the year ranked. Golden's win percentage is 56.4 percent and he has not won a bowl game or even beat a good team. One is clearly superior to the other. The analogy does not hold up at all.
The game itself will surely leave people with mixed feelings. Miami parlayed every lucky bounce and break imaginable, as well as the sheer will of a group of players who left everything out on the field and fought with heart in the face of adversity that would make the greatest of Canes' teams proud in an attempt to overcome the incompetence of the coaching staff…and almost pulled it off. Almost.
This game should have been over in the first half. FSU took a 10-point lead into the half despite dropping two touchdowns, losing a third when Dalvin Cook cramped while heading to the end zone, getting stuffed on 4th and 1 deep in Miami territory, missing a field goal despite having the nation's best kicker, and misplaying an easy interception that turned directly into a long Canes touchdown pass. It's not a stretch to say that FSU could and probably should have been up 38-3. Instead, it was 20-10.
To Miami's credit, both players and coaches took advantage. They came out in the second half and took it to Florida State. The Canes sandwiched two stops around an amazing 17-play, 80-yard touchdown drive where they went 4 of 4 on third downs. They even briefly took a lead in the fourth quarter, on a twisting, diving touchdown catch by a rejuvenated Stacy Coley.
But it was never enough. And that's why the singular focus on this game is a problem. Because the loss has a lot to do with continued trends of incompetence more so than a failure to make a play here or there in one game.
It's the economy, stupid
In 1992, when future president Bill Clinton was running against sitting president George H.W. Bush, his campaign strategist, James Carville, coined the phrase "it's the economy, stupid" to make sure the campaign stayed focused on the message. To say, "don't worry about the small details and trying to explain too much, it's the obvious big picture that needs to be emphasized."
And when we bring this back to Golden's tenure at Miami, we see so many attempts to explain what went wrong. It was the cloud, it was his game management, it was the lack of support from the Board of Trustees, it was the Internet, it was FSU losses sinking promising seasons–no. Those might be contributing factors, but no.
It's the defense, stupid.
When Al Golden was hired as head coach in 2011, long before the scandal hit, he made a decision to fix something that wasn't broken. He did away with a defense that had worked for this school for decades, choosing instead to hire his friend as defensive coordinator and overhaul everything the defensive foundation of the program had been built on.
And the results of that have been a disaster.
If you want to know why the Canes are 3-2 and why they seem to play an inordinate number of competitive games, why no lead is safe, look no further than this defense. We've seen the historically bad out of the defense in 2012 and 2013, but the problem is that even when they aren't atrocious, they still aren't nearly good enough.
This year, the Canes have allowed 383 yards per game, good for 61st nationally. While that would have been by far the worst defense this school has had since the turn of the century if you focus on the time before Golden arrived, it's actually only the third worst defense he has had.
But even that is misleading, because the Canes have managed to thoroughly implode defensively for a half in every game against an FBS opponent this year.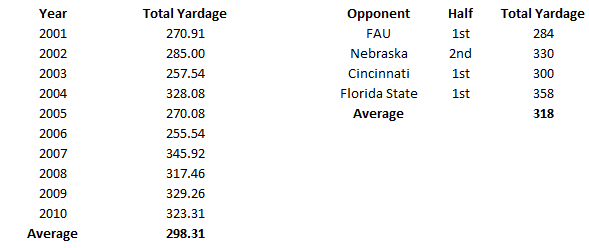 Yep, that'll do it. Four times this season, Miami has allowed more yards in a half then they gave up for entire games on average in 2001, 2002, 2003, 2005, and 2006. This is not even close to good enough. It's very difficult to win games playing defense like that. Perhaps the most damning part of that statistic is that while the defense certainly slipped when Randy Shannon moved from defensive coordinator to head coach, the team is now putting up statistics in a half that are comparable to what they were allowing in full games five years ago when Golden chose to overhaul the defense.
And you know it's not the opponents because if you examine the opponents, the offensive ranks of FAU, Nebraska, Cincinnati and Florida State are 68, 5, 35, and 47, respectively. They are all over the place, from great to below average, and yet they've all had similar success. Until Miami addresses internal issues defensively, something they seem stubbornly incapable of doing, you won't see these losses turn into wins on a consistent basis.
Where Do We Go Now?
The simple answer is on to Virginia Tech, who played their strongest game of the year last week against NC State. The long-term answer is a new coaching staff. That should have happened last year, but didn't. Everyone but Blake James could see that. And that is where the concern will continue to grow.
It's an anxious time for Canes fans when the Athletic Director comes out and makes statements like this:

He only exacerbates the problem.
First, I don't really see any purpose in firing Golden midseason. It will give us all peace of mind, it will stop the fans from screaming, but it won't really accelerate the process of finding a coach. Whether Golden is technically still the coach or not, the administration can move behind the scenes to line things up. And yes, as James said, if in some miracle they turn around and win the next seven games to finish 10-2, Golden should keep his job. There is no real reward for firing him immediately. You've gone this far and might as well let Golden's tenure run its course.
But, Blake James is being disingenuous and intellectually dishonest. When did this policy of waiting until the end of the year to evaluate the coach start? Last year, James sure as hell didn't wait until the year ended. Instead, he was very vocal in stating unequivocally after the FSU and Virginia losses that Golden would not be fired regardless of what happened the rest of the season. That is the epitome of not waiting until the end of the season to evaluate a coach.
If this year James can say, "what if he wins the rest of the games," shouldn't he, heading into FSU last year, have also been asking, "what if he loses the rest of the games?"  
Because Golden did lose the rest of the games, and it didn't matter because despite James' claims that he "always" has to evaluate a coach at the end of the year, that seems to be a policy that was enacted sometime last week.
And this is precisely why Blake James needs to memorize and repeat this over and over: "I'm not going to comment on the status of any of our coaches." End of story. Any other comment is going to cause unnecessary consternation with the fans because he has no credibility.
Last year, James supported Golden, and everyone justifiably assumed that he was just giving a public show of support while evaluating his performance behind the scenes. Nope. So this year, when under normal circumstances, any support of Golden could be excused as a necessary public disposition, given James' history, we have no choice but to be concerned.
And that's where we are post-FSU.
3-2 overall, now 0-1 in the ACC, with one of the Canes easier remaining games on the schedule coming up next week in hosting Virginia Tech. I'm reluctant to throw around the phrase "must win" because Golden has had nine lives already. He probably won't come near winning the Coastal or 10 games.
Golden has all but removed the ability to win "enough" to justify saving his job. Ultimately, James has to decide whether having an awful football program is acceptable. Whether there is any accountability. This is rapidly changing from an Al Golden story to a Blake James story.
Follow Vishnu on Twitter @VRP2003