Mark Richt and the Miami Hurricanes went from a Top-10 ranking to a team whose season is on life support in a little over a week.
The stunning collapse is reminiscent of an era we thought we'd moved on from.
Right from the opening kickoff, when Malcolm Lewis inexplicably made a stretching catch to keep a kickoff from going out of bounds and cost the Canes 35 yards, to the end when Miami seemed to have at least one more chance to get the ball back but failed to tackle on a 3rd and 14 and allowed UNC to run the clock out, this had all the hallmarks of an Al Golden loss.
Except Al Golden is not here, and Mark Richt is responsible, very directly, for the offensive calamity that took place on Saturday.
FSU's defense had also struggled coming into the Miami game. But at least you know they have elite talent and had underachieved. Sure enough, they held Wake Forest to six points on Saturday.
North Carolina? Nah, their defense sucks and this will likely be their finest performance this year. They had failed to allow less than 23 points in a game this season.
James Madison put up 28 points on them. Not the school, the fourth President of the United States who, buoyed with confidence, showed up as a zombie and ran for 150 yards on that defense.
The best the Canes could manage was 13 points? That is an abject failure of coaching, execution and talent. It takes the combination of the three to do that. That is the offensive equivalent of Mark D'Onofrio giving up 500 yards to horrible offenses.
Running On Empty
The run game fueled the Canes' 4-0 start. But it largely disappeared the last two games. The inability to run against Florida State was certainly troubling. But there isn't an adjective to adequately describe this:
How does that happen when Miami are supposed to be a running team? We can all acknowledge the offensive line is not where it needs to be, and that cascades down an offense hindering the ability to run and pass.
But the question for Richt and his staff should not be around the issue of talent. That's for recruiting, and I'm sure there will be a focus on the offensive line in particular. The task now, however, is to extract the maximum out of the current personnel. If this offense would work with better personnel but is not working now, then Richt needs to adjust to that. 
You can't simply run the same ineffective offense on a loop using personnel as an excuse. Surely this offense is better than scoring 13 points against a defense, that even after yesterday, allows over 28 points per game, good for 78th in the country.
It can be multiple things. The players aren't executing. There were several horrible throws from Brad Kaaya. When he did hit receivers in the hands, there were far too many drops. That can be addressed through practice and by getting the confidence back up. The offensive line will be addressed over time through recruiting.
I do think the pitchforks are way too quick to come out. We're six games into Richt's tenure, but are so conditioned to just writing off the coaches that when we see a deficiency like this, we immediately go nuclear.
For all of Al Golden's faults, perhaps his greatest was his inability to acknowledge and address problems, forcing us to watch Sisyphus push the boulder up the hill in perpetuity. Any inkling of a repeat out of this staff will be greeted with disproportional disdain. Richt has plenty of time, but through no fault of his own, he'll receive very little patience.
Which leads us back to the salient question… Given all the talent deficiencies, is this offense running at its maximum? If the answer is no (spoiler alert: the answer is no), then Richt must be held accountable, and he'd acknowledge that himself.
Fortunately, there is half a season left, and the Canes have time to turn things around. Or do they?
One Last Opportunity
It's hard to define what a "good" season is for Miami.
It's a program with National Championship aspirations that has been nowhere near a National Championship in decades. It's a program that has been nowhere near an ACC Championship.
And they look unlikely to complete for one this year: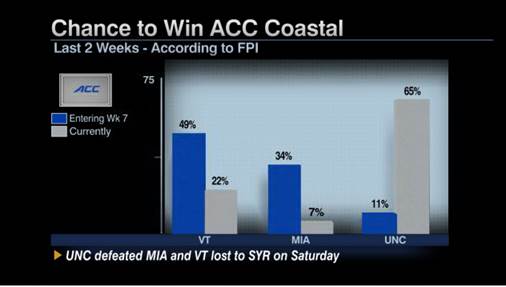 Miami's loss to UNC gives them a 7 percent chance to win the Coastal. UNC's win, coupled with VT's loss to Syracuse, took them from 11 percent to 65 percent. But like Han Solo famously said, "never tell me the odds."
Whatever the definition, it's hard to imagine a "good" season if the Canes lose to Virginia Tech on Thursday. We knew when the schedule came out that this stretch of games — four games in 20 days — would define Miami's season. They are now 1-2 and 1-3 ends it.
Even beating Virginia Tech would result in the Canes needing a lot of help from other results to win the ACC Coastal. But a win in Blacksburg will at least make them competitive in the ACC into November. And that's a start.
Miami needs to get used to playing in and winning games. Games that matter. It's been so long that how to respond and perform is not even present in the DNA anymore. Based on the past, you would expect the Canes to roll over. They have an opportunity, one last opportunity, to change that narrative.
That's what's at stake on Thursday night. It will be the difference between the rest of the season counting, or simply being a vehicle for showing progress.